IWVCA Seating Chart for Mesquite Hall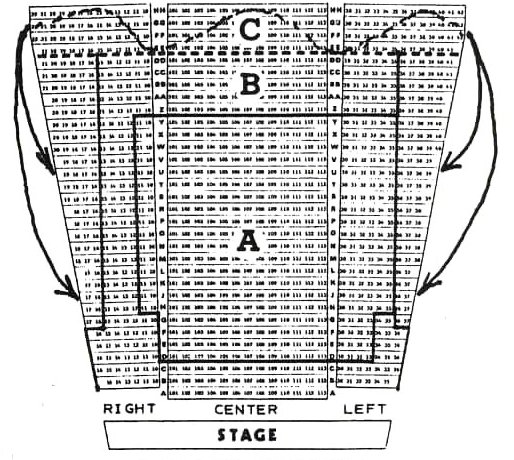 While seats in Areas A and B are reserved seating and are assigned by Area and Seat Number, seating in Area C is stadium seating - you may sit in any vacant seat in Area C at each concert, and may change seats within Area C - there are no seats in Area C that are reserved by Seat Number - the Seat is reserved, but not the Seat Number.

To assist in assuring that there are sufficient seats available at each concert to seat season ticket holders and single concert ticket purchasers, please call the IWVCA at 760-375-5600, preferably the day before or on the day of the concert, and advise if you will be unable to attend that concert. If you leave a message, please leave your name and seat numbers, and indicate if you want a receipt for tax purposes. That way, your reserved seat(s) can be marked "Unreserved" and made available for seating single concert ticket holders. Of course, if you want, you may get credit on your income taxes for one-sixth of your season ticket price as a donation for this release of reserved seat each time you cannot attend (this percentage of the season ticket price will change if you purchased your season ticket after the start of the season). Just let us know, and the IWVCA will gladly send you a notice of donation to be used when preparing your taxes.